---
Local Attractions
We are located close to many popular local areas. Here are a few places to visit while you are in town.
French Acadian Shore:
30 miles of coastline pass in front of home
"Longest mainstreet on earth" hiking trail along the shore line
Yarmouth:
Evangeline Trail:
Surrounded by prinstine nature
Mavillette Beach:
20 minute walk
Unspoiled pristine beach
Boardwalks to the long sandy beach protect the dunes
Beach access
Change houses
Cape St. Mary lighthouse nearby
Fishing wharf
Boat building industry
Bird watching
Meteghan:
Commercial fishing wharf
Meet and greet the local fisherman
Lobster, tuna, scallops, cod, herring, etc.
Buy fresh lobster at the wharf for your enjoyment
Smugglers Cove Provincial Park - picturesque picnic park overlooking a cove and cave reputedly used by rum runners in the early 1900's
Comeauville:
Sandford's wharf:
World's smallest working wooden drawbridge
Church Point:
Clare Golf and Country Club
Location: 277 P.F. Comeau Road, Comeauville (Highway#101 at Exit 29, Little Brook)
Address: RR#1, Church Point, NS B0W 1M0
Email: claregolf@ns.sympatico.ca
Web Site: www.nsga.ns.ca/CLARE/CL.HTM
Telephone: 902-769-2124 Pro Shop, 769-0212, Ron Aymar
902-769-0801 Cuisine / Kitchen
Fax: 902-769-0228
Hours: April 1 - October 31, 7 am - dusk
18 holes of challenging golf overlooking St. Mary's Bay
Green Fees Daily (not limited to 18 holes)
$39 weekends
$35 weekdays
7am-10pm, 7 days a week
VISA & Mastercard
Restaurant
Acadien cuisine
Râpure, fricot, seafood, specials, full-menu
Seats 150 persons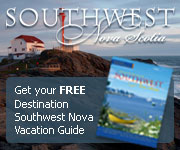 TIANS
2007 Pineapple Award
Recipient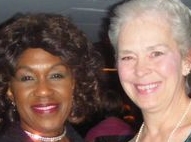 Carol with Mayann E. Francis
the Honorable Lieutenant Governor
of Nova Scotia

"One of the best B & B's we have ever stayed at and we have traveled to all seven continents"
from "Seattle, Washington"
2017
RECOGNITION OF EXCELLENCE
HotelsCombined